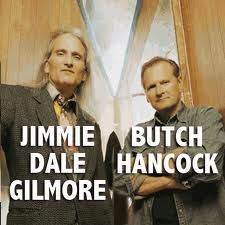 Two members of the legendary
Flatlanders
played Cruise but I can't remember when..anyone?
Jimmie Dale Gilmore
 and
Butch Hancock
 were the perfect couple to enter
The Cruise Cafe
 and I'm sure they felt at home away from home. They were backed by the late
Jessie Taylor
on guitar.
Even though I'm not sure about the date, I'm sure neither of these fine gentleman had web pages at the time and I'm not even sure if I had a computer back then... times have changed.
Jimmie Dale of course is almost as famous for his acting career (Smokey in
The Big Lebowski
) as his music career even though he is foremost, a songwriter. 
Butch and Jimmie Dale are still both active as a duo, as solo artists and as The Flatlanders along with their old buddy
Joe Ely
. Joe Ely recorded the classic
Honkey Tonk Masquerade
and also recorded a live album with
The Clash
, where he sang
I keep my finger nails long so they click when I play the piano,
that line has always stuck with me.
Catch them live if you can, and get ready for top notch songwriting and performing.
Buy their music here:
Jimmie Dale Gilmore
Butch Hancock