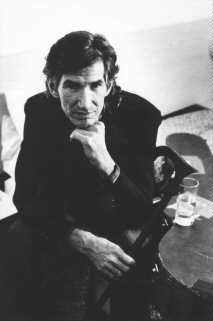 Townes Van Zandt
was a brilliant songwriter who played on at least three different occasions down at the now defunct Cruise Cafe. From a soundman's point of view he could be a challenge to project through a PA system as he was so quiet, that being said he had such a mesmerizing impact on the often rowdy audience that people just kept their mouths shut, their ears tuned and lost themselves in his storytelling. Townes was an amiable guy. Listening to these tapes of Townes was a sad but fascinating blast from the past. I really feel this concert shows what a great performer he was and how warmly the audience took to him. He hit it off really well with my old compadre from that era, house DJ and local chef Devo. I'll include a picture of
Townes with Devo
. Oh yeah and I discovered a little thanks to me near the end of the first part of his show..
Working with Townes was a treat and in later years I've covered a couple of his songs live and really come to terms with his greatness.
Townes Van Zandt passed away in 1997 at the age of 52
Read about Townes 
here
. Buy his music
here.
Listen to
Steve Earle doing Townes on NPR.