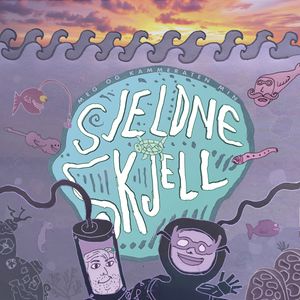 Norway's Meg og kammeraten min, aka their English alterego Mr. E & Me and New Orchestral Hits 4 Kids (Naxos), is the act to follow for catchy, eloquent, contemporary pop music for children. MOKM have toured extensively over the years and are a favorite act at festivals, concert halls, libraries and schools. They have had their own one hour special on the national TV station NRK, backed by The Norwegian Radio Orchestra. Their music has been tagged as "The Pet Sounds"  of children's music with the complexity to please the most discerning ear while retaining the pure joy of great pop music. The american born Martin Hagfors (Meg), is an artist, composer and lyricist in his own right and a celebrated collaborator for the likes of The National Bank, Ellen Andrea Wang, Big Bang, Bobby Bare and Ida Jenshus.  Erik Johannessen (Kammeraten) is a Norwegian composer, arranger and trombone playing member of Jaga Jazzist. He is also known for his studio work with Susanne Sundfør and The Trondheim Jazz Orchestra. 
Meg og kammeraten min will release their sixth album "Sjeldne skjell" in October 2020, a concept album about aquatic life with magical and enchanting songs recorded once again with The Norwegian Radio Orchestra (NRK KORK), conducted by Nick Davies and augmented by high-profile musicians such as Mathias Eick (ECM-solo artist), Nikolai Hængsle (Big Bang/ Elephant 9) and Lars Horntveth (Jaga Jazzist/AHA/Sundfør/Thomas Dybdal). 
The title track will be released as a single July 3, 2020 and is your next favorite super catchy summer hit! Sjeldne shell (rare shells) is a classic tongue twister in the vain of "I see seashells on the seashore…"  the song contemplates the visual differences of male and female seashells, night and day shells, red shells, blue shells and why most shells we find, are broken. The lyrics are a homage to Dr. Suess' absurd "One Fish, Two Fish", while the exquisitely arranged and performed music is as refreshing as a salty swim on a hot summer day. 
All the singles and the album will be marketed with professional music videos on YouTube and social media platforms.