www.lespaulonline.com/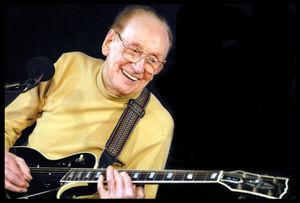 This tape is a gem, Les Paul was a legendary guitar player, songwriter, inventor and a fantastic entertainer. Les Paul as most people know is the man behind the
Gibson guitar
by the same name but he also won
Grammy's
as a musician and was the brain behind
sound on sound
, the dubbing recording technique we now all take for granted and that later evolved into multitracking.
I was lucky enough to work with Les Paul several times at Nightstage, the man was hilarious!  He'd drive up from the NYC area in his old
Lincoln Continental
 with his caseless prototype
Les Paul guitar
lying in the back seat and he'd get to the club early which was a riot because he was full of stories and he loved to talk, Les was a great guy to be around.
His band would come separately and I can't remember their names. Anyone? Les once scolded me for
not
micing his amp (the clubs
Fender Twin Reverb
) dead center on the speaker cone. I was not about to question the man and have on the most part adhered to his conviction ever since.  Beside micing his amp he also wanted me to tap his signal through a home made DI box. And he was quiet! Sitting in my pearch up on the balcony I could hear the acoustic sound of his strings above the amp.
Listen to this whole concert his remarks are as good as his playing. " If you want speed take a pill..."  This tape is a history lesson. Enjoy.
Buy his music
here 
Read about Les Paul
here