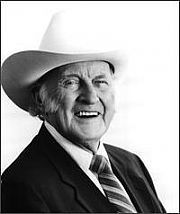 Bill Monroe & The Blue Grass Boys! I got a chance to meet and work with this legend back in 1988. To quote
wikipidea
...
William Smith Monroe (September 13, 1911 – September 9, 1996) was an American musician who created the style of music known as bluegrass, which takes its name from his band, the "Blue Grass Boys," named for Monroe's home state of Kentucky. Monroe's performing career spanned 60 years as a singer, instrumentalist, composer and bandleader. He is often referred to as The Father of Bluegrass.

I really enjoyed the two shows I did with him and his band, I'm a big fan of old timey music and they dug deep into the well and picked out some classics. The band had a great sense of humor and the crowd ate them up, yelling out requests and having some being played. Enjoy!
Buy their music
here
Bill Monroe
Mandolin 
Billy Joe Foster
Fiddle
Tater Tate
Bass
Tom Ewing
Guitar
I think they all sang...