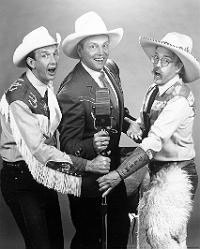 Riders In The Sky
are about the funniest guys I've ever heard on stage and they have been an inspiration for some of my own work in
HGH (Hagfors Gebhardt Hello!)
. They are great musicians and combined with quick wit are an act you definitely need to check out! Look here for their
tour schedule
.
I probably got the chance to work with them at least a couple of nights in Cambridge and as you can hear from this tape they had a great following. The late great
John Hartford
 was on the bill with them and he joined them for a song or two at the end of the evening. I'll get back to John's performance later... The Riders were a trio back in 1988 but have since expanded to a quartet adding the accordian or "stomach Steinway". They have also penned a bunch of songs that have been used in animated movies like Toy Story etc read up on them
here
while enjoying this tape.
Buy their music
here