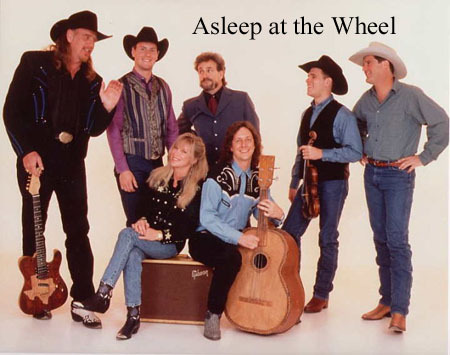 Asleep at the Wheel
 came to Cruise for a two night stint in March 1992, and put on two great shows. Texas swing at its best and the small stage got a beating it probably never recovered from, not that I know what that means.. Anyhow they drew a mixed crowd of music lovers, jazz buffs, country shit kickers etc. and from the sound of this old cassette the Cruise was rockin!
I'm not sure who was in the band at the time but I'll make an
unedumacated
guess, the band leader
Ray Benson
does mention David Sanger and I know for a fact the now very famous
Cindy Cashdollar
on pedal steel was still part of the band. I had previously done sound for Cashdollar in Boston when she played a duo gig with
Leon Redbone
. Cindy is also a friend of my songwriting buddy
Jeff Wasserman
and the bass player in my new band
Jørun Bøgberg
 , and she plays on albums by the both of them. Cindy is now a regular fixture on stage with the likes of Bob Dylan, Van Morrison and Ryan Adams, who ever those guys are. Anyhow I'm short on info, who played bass, fiddle, saxophone etc??
Ray Benson
Guitar lead vocals
Floyd Domino
piano ?
David Sanger drums
Cindy Cashdollar
 steel guitar
Ricky Turpin Fiddle
/vocals ?
Michael Francis saxophone ?
David Earl Miller bass?
help me out folks!
Buy Asleep at the Wheel music
here
or
here
Read about them
here