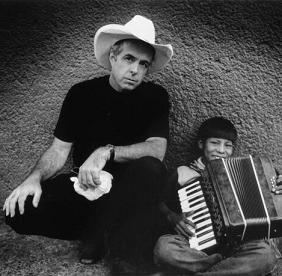 The first time I ran into the
Tom Russell Band
was at Nightstage in Cambridge where they opened for Steve Earl or was it Joe Ely... damn my memory is fading! it's a good thing weeklyleaks is around to catch what's left of my grey cassette...Anyhow, I wound up working with the band on numerous occasions at Cruise Cafe and they always drew a full house. They probably played for more people at Cruise than any other band, but then again I might be wrong..anyone?
Tom Russell has had an amazing career and has continued releasing brilliant albums, his songs have been recorded by the likes of
Johnny Cash
,
Nancy Griffith
,
Dave Alvin
and
The Contenders.
...speaking of, he mentions The Contenders on this tape as being one of his favorite country rock bands alongside
The Kinks
. The bass player from The Contenders
Odd Eirik Fleischer
is a good friend of mine and played on all 10 of the
Home Groan
albums we released. The Contenders' lead singer Bjørn Kulseth. is also mentioned by name on the tape and is now running the small record label,
Norskamerikaner
and released our HGH album
All The Men In Dresses
. And speaking of bass players, Tom Russells' great bass player
Bill Troiani
wound up staying in Oslo and recently won a Norwegian grammy for best blues album!
Tom Russell has also become a favorite of David Letterman and has played on the
show
a bunch of times. I could go on and on,... but do check out
Fats Kaplin
and
Andrew Hardin
as well, and be sure to catch Tom Russell live, he's got a
Norwegian tour
coming up in May!
Tom Russell: guitar, vocals
Fats Kaplin
: fiddle,pedal steel, accordian, harmonica, vocals
Andrew Hardin
: guitar vocals
Billy Troiani
: bass guitar, vocals
Mike Warner: drums
Buy his music
here
  !!