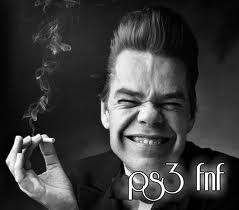 There is nothing wrong with a real song and dance man! Not that Buster danced much, but he moved, his mind raced and his lips followed suit. His band was great and the audience absolutely loved this guy. I even made a point of bringing my mum to one of the shows as I knew she would love it as much as me. 
I remember doing several shows with the
Banshees
of Blue and with just one monitor mix for horns, piano, vocals, etc it was a challange, but it worked.
Unfortunatley time has run its toll on this old cassette and a few minutes of the top are ruined, maybe the NYC flu that he mentions he and the band brought with them got to it, hell, I don't know, but I just wound the tape forward to some playable spot and ripped it.
This is a Christmas show from 1987 and I'll get back to the exact date...
The band included these people but I can't make out the piano player??? The horn section is still around as
The Uptown Horns
.
The most famous of the lot is of course the bass player Tony Garnier who went on to become a long standing sideman with
Bob Dylan
.
David Johansen
/Buster Poindexter vocals
Brian Koonin
guitar and musical director
Tony Garnier
Bass
Tony Machine
Drums
Fred Wolcott
Percussion
Crispin Cioe
 Barritone sax
Bob Funk
Trombone
Arno Hecht
Tenor sax
Hollywood Paul Litteral
Trumpet
Soozie Tyrell
vocals, fiddle
Buy Buster's music
here